The Praia da Marinha in Portugal to fame is accustomed. As beautiful as that a major publishing company of tourist guides has put on its cover of the Guide of Portugal; in all of Portugal.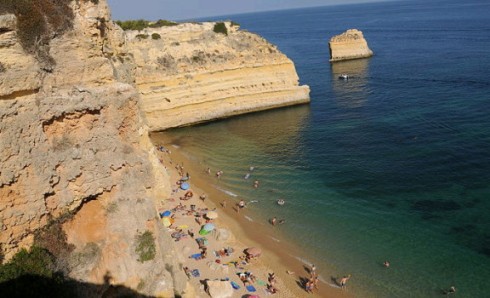 The images of the orange cliffs, eccentric rocks that rise from the bottom of emerald green waters, a small beach between chiseled cliffs, are the passport to a small paradise near Lagoa, in the Algarve, Portugal. As cute as the Michelin guide has quoted between 1-10 most beautiful beaches in Europe.
A paradise, because it is not easy to get there; 115 steps on the Algarve coast that descend from the cliff, between the sparse vegetation, until the end, where the golden sand beach, disappears in the clear waters. Ah, among other awards, including the Golden Beach.
And if the context is charming, the journey of wonders continues even under water, thanks to the excellent visibility of the waters. For those who enjoy diving or snorkeling there is a whole world to discover; seahorses, anemones, starfish, colorful fish, octopus and cuttlefish and … curly. And then, if all this was not enough, even underwater caves, where it is easy to feel an explorer.
The Algarve is the southernmost region of Portugal, that deep down at the bottom, between Spain and the ocean, off the coast of Africa. For its beaches and natural landscapes, beautiful, after Lisbon, the main tourist attraction in Portugal.