If the people of New York go to Central Park for rest and relaxation, those of London go to Hyde Park. It is the great green lung of London, a patch of brilliant color that stands out among the stormy gray London sky and the walls of stone palaces. If you go on a visit to London, a trip to Hyde Park you should definitely do it: here there are many monuments and places of interest to visit and photograph.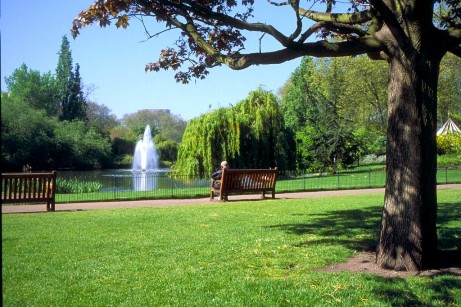 Hyde Park is one of the largest and most famous parks of central London and also one of the Royal Parks. Hyde Park is divided into two equal by the artificial lake Serpentine Lake and in continuity with the Kensington Gardens (parks are two distinct, though being in continuity many consider them the same entity).
In 1851 Hyde Park hosted the Great Exhibition. There are several angles rather famous Hyde Park: there has the Hyde Park Speakers' Corner, the latter being situated in the south-east. To photograph absolutely the Grand Entrance of the park, is the main entrance and was designed by Decimus Burton in 1824. It is basically a series of fluted Ionic columns with three vaulted passages through which can also pass through the carriages. The gates of the Grand Entrance were built by Sir Bramah and are bronze and iron: the decorations represent the greek honeysuckle.
As we looked forward, one corner of Hyde Park of most interest is the Speakers' Corner, located in the northeast corner, near Marble Arch: here you will find people who freely express their opinions. Going south of the Serpentine Lake is the fountain built in memory of Princess Diana. To the southeast of the lake, however, found the monument in memory of the victims of the Holocaust and the monument dedicated to the victims of the London bombings of 7 July 2005.
In a vast park cannot miss the themed gardens: The Rose Garden designed by Colvin & Moggridge in 1994. Two large arches mark the boundaries of the park are the Wellington Arch to the southeast and Marble Arch to the northeast. In the Hyde Park found a police station, bars, shops, sports fields, bike riding, play areas and at certain times of the year can also find umbrellas and lounge chairs, and given the opportunity to dive from docks. On the lake it is possible to take boat trips.