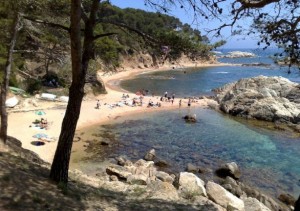 Cala Estreta, the best beach of the Costa Brava in Catalonia, is a short stretch of coastline, where the crystal clear water, which changes the colors of emerald and turquoise, iis populated by flocks of fish and marine plants.
Two beaches, narrow, curving up to meet under the rocks, framed by pine trees and low contours, burned by the sea and the Mediterranean, to which we are so accustomed.
No kiosk, no establishment, and walk along a path that runs between rocks (there are steps), not so easy (of course there can also be reached by sea). But maybe that's why its being secluded that Cala Estreta has been preserved, and is chosen by those who love nature and privacy, including naturists (a beach is considered to mixed access).