Art, design, extravagance, music, brunch and a fair price, are the key words that come to mind when thinking of Drake Hotel in Queen Street. Hotel but also permanent art exhibition with a collection always updating works by young contemporary artists, bar, restaurant and terrace for brunch, and rooms for every type of customer.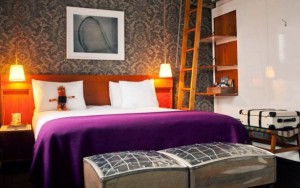 Arranged on four floors (from -1 to + 2) The Drake Hotel is a thousand faces: on level -1 you will find the Underground, with a stage, mix, service audio, lights … well, a real dance club concerts and evenings. At level 0 there is a reception, bar with outdoor stations, and lounge. It is very characteristic, decorated in wood, with a library that is also the location for DJs, bar counter with a selection of draft beers, liquors and good wine, tables for dining and space for relaxing.
At floor +1 there are the rooms of the Drake. There are many, but they are all well-equipped. There are those of size S, dedicated to the traveler, a size M, L and XL suite. In all the rooms is the master design. They have refined toiletries, a newly developed glass bath, bathrobe, wi-fi, tv with dvd player, ipod docking stations and especially the handmade doll that characterizes every room and at the end of your stay you can also take away. Cost: from 189 to 319 Canadian dollars per room (150 to 260 euros).
At floor +2 there is a terrace. Here you can enjoy a beautiful view of Qeen Street, but mostly you can enjoy the popular Drake brunch (really cheap, among other things, from 10 to 13 Canadian dollars, go up to 17 for a super burger), advice not to be missed, especially the waffles with fried chicken wings. All accompanied by beer, wines or juices and coffee.