There may be various reasons for staying at the Royal York Hotel in Toronto: Located in the heart of Downtown, in a strategic location for shopping, just above a major crossroads of the underground Path; hotel is sui generis, which has kept the design of a century ago, with rooms covered with flowers and bathrooms with scenes of Toile de Jouy, is a historic place of the city in its architecture to Chateaux over 28 floors, has hosted many kings and queens.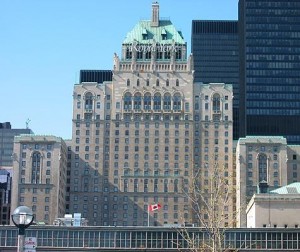 You certainly struck by the contrast between the taps of yesteryear or switches as before, and the view that the mirror skyscrapers all around. The thing liked most is undoubtedly the garden on the terrace, a trend, which discovered is spreading among the hotels around the world.
It turns out that here, among balustrades concrete and auburn towers of glass, grow plants and herbs to wonder, found everything from tomatoes with spicy Thai basil. Herbs and vegetables that are naturally used by chefs in the dishes of the Epic, the restaurant of the house.