The state of Kerala in India, is said to be "the region where dwell the Gods". Perhaps it is the beauty of nature, made of monsoon forests and a rich fauna. It will be for the kindness and good manners of the inhabitants or for the quality of food and plenty of fish. The state of Kerala, located on the southern coast of India, is certainly one of the most beautiful places in which to travel.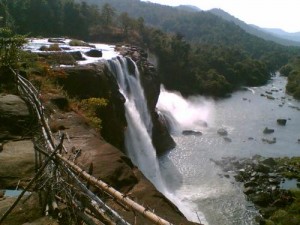 Among the many nature reserves, one located in the Athirapally-Vazhachal worth a visit. Athirapally is the land of forests, rivers and large waterfalls. Yes, here is what is called affectionately "The Niagara of India": a majestic waterfall that thanks to Indian cinema has become a popular attraction. Many films have been shot in the monsoon forests of this region and often the waterfalls become the perfect setting for the classic moment sung in the films.
The Athirapally Falls are located in the district of Thrissur two-hour journey from Cochin. It is generated by the Chalakudy River, which originates in the upper part of the Western Ghats and reaches their splendor in the fall of less than 24 meters in the air. You can visit either from above or below, and both because the views are truly spectacular, just know that the way down to the foot of the falls is quite steep and slippery.
Despite the falls are always impressive, recommend you visit it in the monsoon season, because that is the time when all the surrounding nature occurs suddenly. The dense forests Sholayar, clears roads and hides the wild animals of India. It is easy to find groups of monkeys and many of them are staying close to the tourist car park of waterfalls, eating garbage and stealing chocolate from the hands of unsuspecting tourists.