Vahine Island is a private island located north of Taha'a, which can only be described as a perfect paradise. Small and accurate to the last detail, this destination is definitely one of those to be considered for a special holiday.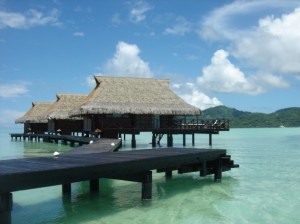 There are only 9 bungalows, three built over the sea and six are instead on the island. The crystal clear water of the lagoon with its beautiful gardens of coral inhabited from the much tropical species of fish.
The white sandy beaches with palm trees complete the postcard, and while the lagoon on one side of the island provides the perfect place for a quiet bath, on the other side of the ocean is felt the full force of its currents.
The Polynesian style very refined that shows in every detail of the bungalows makes us feel really in the perfect spot for a relaxing holiday. There are no words to describe the feeling you get when you have breakfast on the veranda into the deep blue sea and sky, or while dining at one meter from hundreds of Nemo and Dori.
Among the activities included free of charge in the lounge at the Vahine island is the ride in dugout to explore the lagoon, the tour to discover the shells, botanical tour, tour to see manta rays, demonstrating how to use the sarong and how to weave palm leaves. The price includes the use of surfboard, snorkelling kit and one for fishing.