We continue to wander around castles and manors, and, after a stop at Chambord, proceed to another stage of the beautiful castles of the Loire. So here we are at Chenonceau, unique castle-bridge to the east of the city of Tours.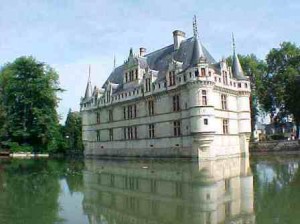 Among the many impressive castles of the Loire that really has something more; since it was built over a river and its great halls stand on arches of stone in the water. Taking advantage of this particular shape on the ground floor has been built a magnificent ballroom and immense, with huge windows overlooking the river and the woods. Do not miss of course, the castle entrance, an Italian garden, guarded by a round tower isolated from the rest of the building.
Among the many gardens surrounding the castle, everyone stands that can be visited, devoted entirely to flowers and cutting roses, which are used to decorate the Interior of the building.
The gardens of the castle can be visited at night, during the special opening set for all the weekends of June and for every night of July and August. The show starts at 21 and 30 and the ticket costs 5 euros. In summer, the castle is open from 9 to 20 and the ticket costs 11 euros per person.