Sydney impressed me when I first saw it. Somehow, I had the feeling of being in many cities at the same time. Barcelona, San Francisco, Los Angeles… is the perfect city: beautiful beach, great attractions, great weather, lifestyle and cosmopolitan, vibrant nightlife… what more could you want! Here is the list of the top things to do when visiting Sydney: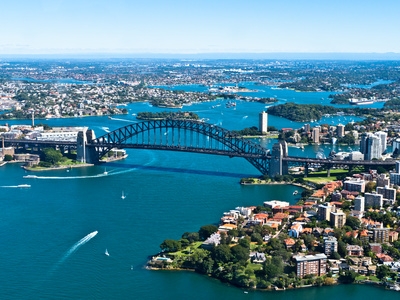 Sydney Opera House: An opera house upper class that offer multiple options such as "The Playhouse", a cheaper option ($30 for a show) and more intimate to enjoy good music.
Spit Bridge to Manly walk: long walk, but worth it, with many beaches along the way.
Bondi to Coogee Walk: Walking along the cliffs overlooking the Pacific. You can see migrating whales in October/November.
Farmers market at Carriageworks: Amazing selection of fresh foods, cheeses, etc. covert traditional weekly farmers' market in the refurbished market space Eveleigh Railyards.
Balmain: Great neighborhood for walking. 10 minutes from the city. Puerto old is still there, a lot of cafes and restaurants and pubs.
For book lovers: the best used bookstores are in Glebe, Glebe Point Road.
The Rocks: The oldest part of Sydney, right in the city center, near Circular Quay. Many boutique shops, restaurants and bars, designer hotels and galleries of art and photography. Every weekend there are handicraft markets, food fairs, concerts in the street….
Victoria Park Pool: You can enjoy a sun bath right in the city center. At Victoria Park, there is a large public swimming pool with outdoor gym, with which you may access by only $2
Surry Hills: In the south-east of Sydney. A bohemian neighborhood where you can find small coffee shops and organic coffee restaurants, the designers of new stores, quaint shops and curious book or furniture stores.
Picnic in the Botanical Garden: A common plan between the Australian people. A large park around Circular Quay and the Opera House, where you can enjoy a picnic with typical "sushi rolls", imported from the inhabitants of many Asian countries living in Sydney.
Taronga Zoo: The perfect plan for children. One of the main attractions of Sydney. Great place to see Australian wildlife and enjoy great views of the city.
Visit to Watsons Bay: Taking the ferry from Circular Quay, you get to Watsons Bay where you can find the most beautiful bays and beaches from which you can admire stunning views of the Opera House and Sydney.