The Iguazu Falls are a complex of cataracts which is shared by Brazil and Argentina and is one of the most important natural destinations in South America, and are the only natural wonder located on the mainland near the Amazon River. Traveling to the Iguazu Falls is an unforgettable experience where you can feel the force of nature at its best.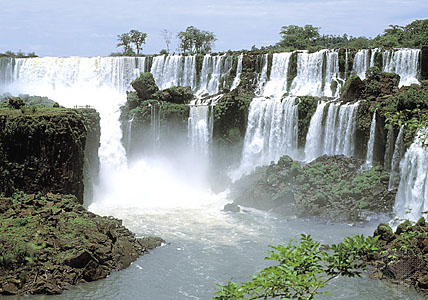 To get to the Iguazu Falls must travel to Puerto Iguazu in Misiones Province in Argentina; the gateway to the Iguazu Falls is made through a sample of the South American rainforest, a tour of an intense green accompanied by the characteristic fauna of this ecosystem: monkeys, coatis, toucans. As it approaches the falls the sound of the same strength will be much more evident.
The most important point of a visit to Iguazu Falls National Park is the approach to the observation deck of the Garganta del Diablo, the stunning leap waterfalls complex, to observe all the Iguazu Falls at its best it is necessary cross to the Brazilian side of the park Foz de Iguacu, where it achieves the best view of this natural wonder.