In Zagreb, the capital of Croatia, the "Subspace" has just opened a hotel that instead of rooms with beds offers its guests "space capsules" as if it were a spaceship. "This hotel represents our vision of a stellar journey. Our intention is that the bedroom simulates the body of a ship space", explained the owner of the establishment, Hrvoje Krlic, amateur from young to the films of science fiction. The "Subspace" capsules remind him of those in which Bruce Willis and Milla Jovovich sleep on their space voyage in the film "The Fifth Element", one of the classics of science fiction films.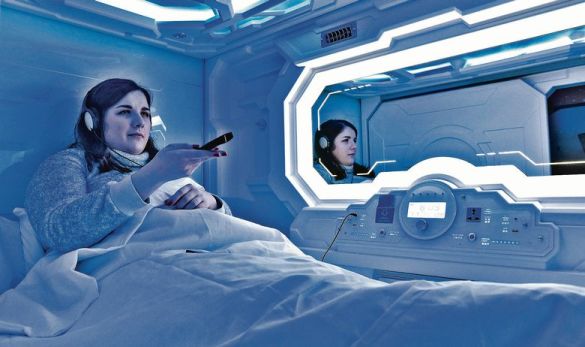 The "Subspace" has a large living room, where you will find 20 capsules for individual living and sleeping, several special capsules with bathrooms, and also has a reception, a cafeteria and a terrace. The hotel is located about 200 meters from Ban Jelacic Square, in the old town of Zagreb. The Croatian capital was until recently a mere transit point for tourists on their way to the Adriatic Sea beach, but today it is a place where travelers stay longer.
"In the Advent season we were full, especially young and happy people. We are right in the center of the city, but in a very quiet area without traffic", explains Krlic, 45 years of age. The Croatian press says that the "Subspace" is the first hotel-capsule of the European Union (EU), a hotel concept that has existed for years in Asia, especially in Japan.
The capsules, all imported from China, are 1.2 by 2 meters in size, capable of one person accommodating. However, given the hostel's great success in its first six weeks of life, the owner of "Subspace" intends to expand it with larger capsules, suitable for couples. Each of the capsules has various levels of ventilation, a touch screen with keyboard and headphones, high-speed Internet connection, USB and power plugs, a strong box for money and documents, as well as a mirror.
In fact, hygiene is one of the strengths of "Subspace", explains the owner with pride. "After being used, each capsule is disinfected with a special substance that kills 99.99 percent of all microbes, making them almost sterile", he says.
The modernist atmosphere has been enriched by the painter Tomislav Bundek, whose futuristic drawings have a touch of the aesthetic of the movie "Avatar", another of the classics of science fiction cinema. His works cover much of the walls and ceiling of the hotel's cafeteria. The price of the capsules, out of season, ranges between 15 and 27 euros per night, with three different rates depending on the equipment of the capsule.