Usually, when we think of a trip to India, given its vastness you never know where to start. So most of the time you think about the usual tour of the most famous cities in the capital, considering that India is vast, very different and a different beauty depending on the goal that you choose. A little mainstream tour but not for this fascinating is that in the region of Rajasthan.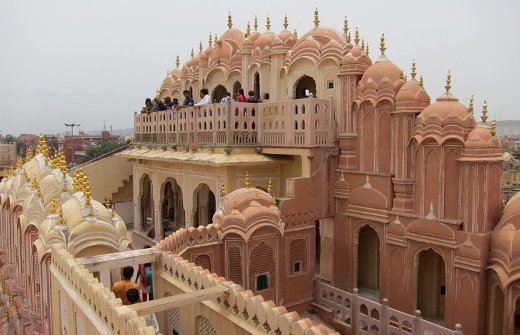 Rajasthan is the largest state in India, although a large part of its territory is host to the vast and inhospitable Thar Desert, also known as the Rajasthan Desert or Great Indian Desert. The desert that in reality you can go to enjoy its charm thanks to hikes in camel or jeep tours that start from Jaisalmer, Bikaner or Deshnoke, famous for its "Temple of Rats".
The capital of this state is, however, Jaipur, "the pink city", rich in ancient and famous buildings, such as Hawa Mahal, or Palace of Wind, so named because of the many windows and fretwork balconies of a building with 5 floors, for allow ladies of the house to observe, unseen, parades and the world according to cool. Rich in history, culture and natural beauty, Jaipur is a city of magnificent palaces and lush gardens, bazaars and people in every corner of the city.
Khimsar and Mandawa are two fairytale city with wonderful buildings that are visited for arriving in the blue Jodhpur or Pushkar, city headquarters of the temple dedicated to Brahma, creator of the universe.
And again inevitable stop in Fatehpur Sikri, called the ghost town, or to Agra, where stands the imposing Taj Mahal, monument giant Emperor Shah Jahan built in memory of his beloved disappeared wife.
On the way back to Delhi, where usually start the tour – because that is where there is the nearest airport – stop in Jaisalmer, a city that was once one of the stages of the way of the Silk Road and still has the look of a city-fortress.
Do not abandon Rajasthan without a healthy feast of tandoori cuisine, while for the souvenir stop at one of the many bazaars you will find in the city, full of fabrics, precious stones, incenses, slippers.