Thor's Well, almost sitting on the edge of the Oregon Coast, seems a mythological gaping hole over the abyss, which does not fill ever, despite the uninterrupted flow of sea water that disappears into its depths. But Thor's Well, not to be confused with the wedge of Odin, it is not bottomless, although it still remains very dangerous.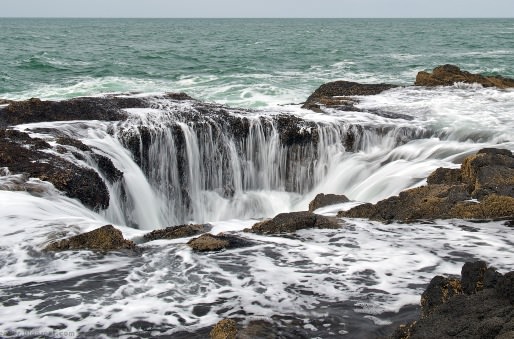 Also known as the exhaust pipe of the Pacific, in its "desecrated" version, the well is actually a hole in the rock deep probably only about 20 meters, nothing to do with the giant open pit mine in Siberia. But even if the well at the end is not as magical as it may seem, it is still a great place for taking pictures, preferably with the backdrop of the sun setting over the Pacific Ocean.
Instead of fans (and reckless) naturalists are irresistible well in extreme conditions, such as at high tide, or during electrical storms. But be careful, because you are likely to be taken away by sudden streams of water, which often run into the well.
It is not complicated to arrive, but you have to be careful, because it is a dangerous place due to the force of the waves. In 1914, the US Forest Service drew a narrow path to the cliff around the headland , so it is enough to get there from the small town of Yachts (like the river that flows into the same region of Cape Perpetua).
Thor's Well is located within the protected area of Cape Perpetua, a part of the Oregon Coast (northwest of the United States), rich in forests and shine natural scenery, Devil's Churn, or Spouting Horn.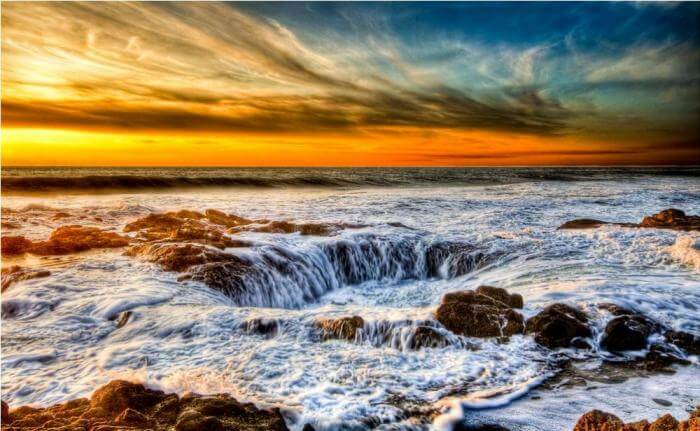 Cabo Perpetua has its own Visitor Center, from where you can access the observatories of the Well of Thor, as well as know everything about the geological formations of the area, the ocean currents and the geomorphology of the coast, which makes this phenomenon possible. It is the only way to approach it safely, because venturing on our own can be very dangerous.
However, this place is pure wonder, both for visitors and for photographers who embark on an adventure regardless of the danger because the sun falls together with the well achieve excellent images, which gives tourists more desire to go to this place full of a lot of natural beauty.
The area is extremely calm, which can be deceiving, so you have to take many precautions. The best thing is that you do not walk near the well because you can be sucked by it, as it does with anything else that comes your way. If you decide to go take binoculars that will help you to be from a distance looking, and thus be out of danger.