The caver's friends can not miss visiting this fascinating place, a true wonder of nature. These are the Caves of Drach (in Catalan Cueva del Drach), the creeks made by the secular and meticulous work of the sea on the rock.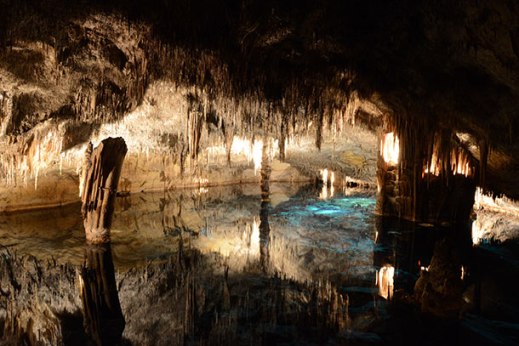 The Caves of Drach are located on the southeastern shore of the island of Majorca, about sixty kilometers from the capital, Palma. These caves were discovered in 1896 and are a complex of four large caves: Black Cave, White Cave, Cave of Luigi Salvatore, and Cave of the French.
There are located within a nature park and is one of the most visited by tourists on the island attractions. Just get off in these caves to feel on the moon: 700 meters long, offer a landscape of thousands of stalactites and stalagmites, columns, limestone massifs that make it unique landscape of its kind. In addition, the beauty of nature, are associated with games of lights and sounds that make the environment even more fascinating.
One of the most spectacular moments of this tour but the concert in Lake Martel and consists of a real exhibition of classical music in the cave: while the orchestra plays ferried by boat.
The entrance to the Caves of Drach costs 15 euro (reduced for age 8 to 15); currently open, until 31 October, with these hours: 10:00, 11:00, 12:00, 14:00, 15:00, 16:00 and 17:00.