If you are in Los Angeles, included in your sightseeing tour stop at the TCL Chinese Theater, a typical Hollywood movie, which is located on the famous Hollywood Walk of Fame, the street where you will find the footprints of the stars of the American film firmament.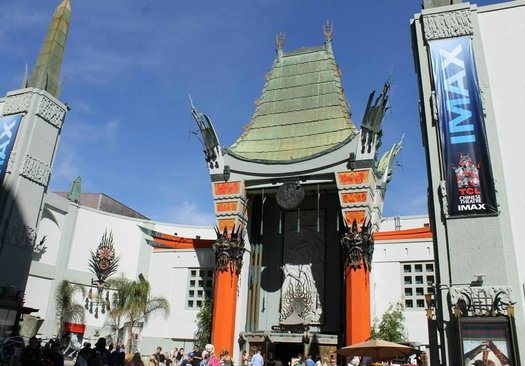 May is an important month for this cinema, which has accomplished in these days 90 years of opening: it was 1927 when the cinema was inaugurated with the premiere of the film "King of Kings", silent film directed by Cecil B. DeMille.
To celebrate the anniversary, on the façade of the cinema was projected an anthology of the greatest Masterpieces of the seventh art and other events are scheduled for the birthday.
Built following the success of the nearby Egyptian Theater, this theater has been home to many premieres and three Academy Awards ceremonies, held in 1944, 1945 and 1946. Among the features of this building are the concrete blocks fixed in the forecourt, bear the signatures, the footprints of the hands and feet of popular characters from the world of the show from 1920 to present.
The notoriety of the building, however, lies in its architecture: the exterior of the theater has been realized on the basis of a Chinese pagoda and is depicted within a large dragon, while two foo dogs are placed on the sides of the main entrance.