Centrally situated in the Mauricie, just thirty kilometers from Trois-Rivieres, Shawinigan town accommodates each year more than one hundred thousand satisfied visitors.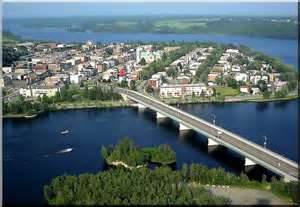 Offering many services of a major urban center and the tranquility of a peaceful community, the municipality located with the accesses of the St-Maurice conceals of panoply of activities and attractions for a memorable stay in Quebec. From a diversified and engaged economy, Shawinigan counts on a committed network of entrepreneurs and general-purpose infrastructures and to become a major destination for tourists in the province and elsewhere.
What to do and see in Shawinigan?
Whether you are planning a moment of escape for a weekend with friends or family for a week full of activities, Shawinigan is your vacation destination. The Mauricie National Park, and 536 km2 of lush forest, offers tourists unforgettable nature activities.
Observation, excursions, camping, swimming and hiking are practice in the decor inspiring of nature in Mauricie. Shawinigan also offers a golf club of the most prestigious, a network of cycle paths magnificently realized besides the access to natural places and outfitters for hunting and fishing. The Shawinigan area is not just a nature destination. Culture lovers will be amazed at the quality of services and the artists presented at the Centre des Arts in Shawinigan. City of Energy and Science Center invites visitors to special exhibitions on the history of the industrial area: a most entertaining family activity! For nature, the outdoors, entertainment and history, the Shawinigan area welcomes you.
Accommodation and food in the region
In terms of accommodation and food, Shawinigan holds a place among the tourist destinations in Quebec. Restaurants in Shawinigan present visitors with unique dishes and extraordinary desserts. Inviting restaurants and bars are among the most popular Quebec and welcoming hotels are the hallmark of Shawinigan, everything, just thirty kilometers from Trois-Rivieres.
The network of accommodation of the area of Shawinigan is diversified and pleasing. Are you looking for a hotel in Shawinigan? The options which are offered to the tourists are very numerous and are appropriate for all the types of travelers.