Lanzarote is the number one travel destination on the Spanish coast, and this is not surprising when you think about numerous attractions, sandy beaches, the great climate and warm waters. Here are a few places you shouldn't miss when visiting Lanzarote.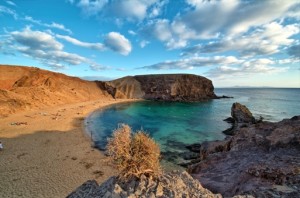 Haria City
The peaceful town of Haria is situated in the northern part of the island, called "The Valley of One Thousand Palms". The small town is incredibly beautiful, and it has a charming city center filled with small shops, boutiques and coffee houses. In the past, the town was frequently ransacked by pirates, and it even burnt to the ground once. However the trees grew again and the city has reclaimed its former beauty and charm.
La Geria, and the Wines of Lanzarote
If you want to know all about wine making, or if you want to feast your eyes on the vines of red grapes, you should pay a visit to the wine growing region of Lanzarote, La Geria. The farmers of the island have mastered the art of wine making and vine production. Most of the production of wine on the island is ensured by Malvasia, the oldest known variety of grape.
Tinajo and Mancha Blanca
Tinajo and Mancha Blanca are both villages which are part of the municipality of Tinajo. The Manca Blanca village is very famous for the church of Los Dolores, and its annual festival. The church was constructed in order to protect the island from the volcanic eruptions in 18th and is of great importance for the Lanzarote heritage. The church is said to have successfully protected the people from the dangerous lava flow.
Orzola
A northerly village situated in a secluded and isolated region of the island, is the Orzola village. It is unlike any other resort on Lanzarote, and some people consider its remoteness to be its most important feature. The harbor which can be found in the neighboring area offers ferry rides to the La Graciosa Island. There are two major beaches worth mentioning in this forsaken place. First there is the Caleton Blanca, a stunning crystalline lagoon surrounded by white sand, and secondly the Playa de la Canteria which is more desolate because of the striking cliffs which surround the coastline.
The friendly climate which makes this destination worth visiting in any season, the number of beaches which designed for all kinds of tastes, and the historical attractions are reasons enough to visit this moon-like island. If you wish to learn more about the special relationship that local people have with the volcanic landscape you should also visit the Art Centers and Museums.