You have the habit of forgetting your business or to redo your suitcase regularly to ensure that you don't forget anything? Here are 5 tips tested and approved to become a pro of the effective suitcase!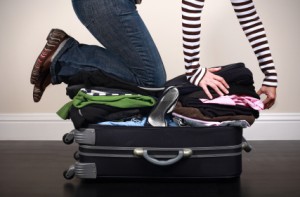 Make a list
This is the best way not to forget anything!
List all items that will help you on spot (toothbrush, flashlight, address book …) and reduce to the point: no need to list your entire wardrobe!
First few days in advance: if your favorite jacket is dirty, you will have time to wash and iron it.
Choose a suitable suitcase
It seems obvious, but … How many people clutter of too heavy bag or too big suitcase! Depending on the time and place of your stay, you will spend the canvas bag to the trolley!
Carry a backpack which is hand luggage and you will use on place. Some plastic bags are always useful to isolate a runny shampoo or store your dirty clothes.
The infallible storage technique
Be a little methodical and everything will go easily. First, place heavy objects at the bottom of the bag, your socks in your shoes.
For clothing, remember that the stock tube, you earn instead. Wrap fragile items of heavy clothing that will amortize shocks. More your bag is full; the content will move less and may get damaged!
Divide and store
Separate all your accessories and use them to fill the gaps. Rather than vanity, opt for several small packages of toiletries. A little forethought is affecting ever: if you're flying, pack a spare in your luggage. Same for drugs, especially those in fixed time!
Essentials to Remember
A copy of your identification documents (and the originals with you!)
A label on your luggage and
A small medical emergency.