Wedged between the Caribbean Sea and the Atlantic Ocean, Martinique, rightfully called "the flower island's", is an enclave paradise that does not lack charm. South of the island, are hills, sugar cane plantations, and sandy beaches. In the North, more abrupt and steep, found abundant vegetation, pineapple and banana plantations and the highest point of the island (1397 meters), a volcano is called Mount Pelee.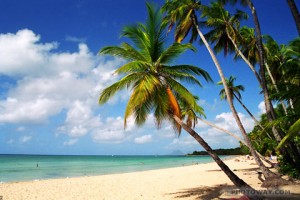 Thus, during a stay in Martinique, visitors are invariably charmed by the many faces of the island, mangrove, the contact point between the sea and the forest, the rainforest, where flora and fauna rich and diverse available to the gaze of the curious, of course, passing by the beaches lined with coconut palms. The Trois-Ilets, the Anses d'Arlet, the Salines, the Diamond… the heavenly places in which to enjoy the warm and crystalline waters that surrounds the island.
Not content to offer a stunning natural setting, Martinique can also boast to offer its visitors a multitude of activities of all kinds. Diving, sailing, paragliding, canyoning, hiking or horse riding… It is hardly possible to get bored during a stay in Martinique.
On the island, you will have access to different options of accommodation: villa surrounded by a garden apartment in town, bed and breakfasts or vacation rentals.
Finally, do not miss the local cuisine: chicken colombo, cod fritters, Creole sausage… what delight! Taste also (in moderation) rum white or brown, a real local pride! Many distilleries are present on the island and they open their doors to know everything about the production of rum.
If you are looking for a sunny stay with many simple pleasures, no one doubts that the Martinique is an ideal destination!