Playa Divorcio, the beach of divorce is so named because of the sea, almost always in a storm, the opposite of the Lovers of the nearby beach, where the sea is calmer, as if to say stormy as a divorce (even though, luckily, those increases consensual).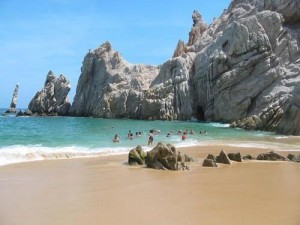 The beach is really nice, and here you can truly appreciate it with a virtual 360° view. Great for sunbathing, relax, take a picnic, to be avoided for swimming, given the strong currents that bathe the tip of the peninsula of California, Mexico.
Normally you can get there by sea, more comfortable, but someone arrives by land, the risk of falling and getting hurt on the rocks. We are in Cabo San Lucas, once a small fishing village in the Mexican peninsula of California, where daredevils arrived to see whales, now smiling and frequented (many "Americans") tourist resort.