The Whale watching is an activity that consists in the observation of cetaceans in their natural environment.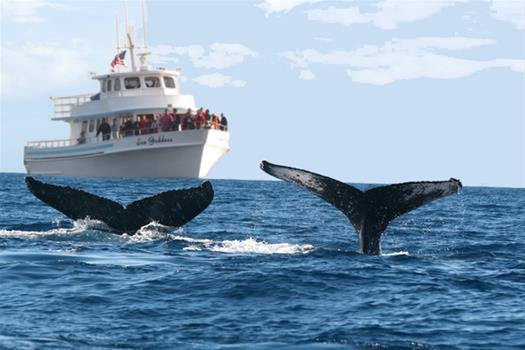 More and more fans of the world of cetaceans rely in the hands of experts and operators who organize boat trips to the places where the population of whales is sufficiently wide. In very few places in the world, such as along the southern coast of South Africa and Australia, you can go whale watching from the ground.
The most famous places where to watch whales in the waters off the coast of Scandinavia, the Pacific coast of Mexico, Kenya, New Zealand, Azores, Iceland, Canada (especially in the mouth of the St. Lawrence, in Quebec), Argentina (The Valdes Peninsula, Patagonia), Australia and South Africa (mainly in the Mossel Bay region).
Even in Thailand, in Bangkok Bay, where wildlife photographer takes tourists into the sea to admire the enchanting spectacle of the whales that swim and play in their natural habitat.
In the Mediterranean, you can watch whales in a protected area situated between Liguria and Corsica called Cetacean Sanctuary.
The Whale watching is becoming increasingly form of tourism that respects nature and the ecosystem.
Recommended Reading
Finding whales in the wild is not always so easy. However, this is not the case if you are in Tenerife as the whale watching season lasts all year round. It comes as no surprise then that there are so many boat excursions available on the island. For registered whale and dolphin watching trips in Tenerife you should contact the local tour company Club Canary. Club Canary is offering a wide range of whale watching excursions without disturbing the animals. You can visit their office in Costa Adeje, call them at 604 105 055 or visit clubcanary.com.