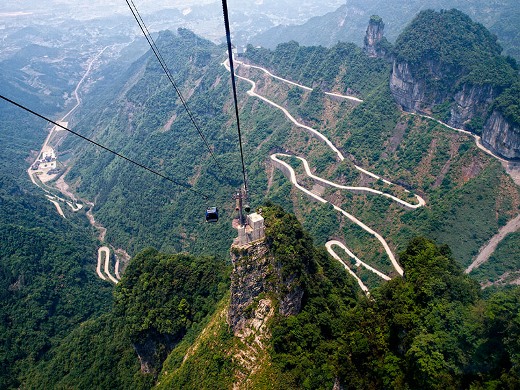 Only for those who do not suffer from vertigo and above all has enough breath. Yes, because the famous gate of Paradise, which is located on Mount Tianmen, China, can be reached only after traveling curves, paths that give the cliff and then 999 steps. But it is said that once you reach the top, the show is unforgettable.
The door of Paradise is located on Mount Tianmen, which is located near Zhangjiajie, Hunan Province; on top of this mountain there is a natural rock cave shaped like a bow, with views to infinity. The hole of this cliff faces in fact overlooking a panorama that the Chinese call "Closest Earth Landmark to God".
The difficult path that leads to the door of Paradise we said is not for everyone – not surprisingly the Chinese have renamed Tongtian – Avenue Leading to the Sky – but it is not necessary to go on foot: the lazy can take the world's longest cable car, The Tianmen Mountain Cable, which in 20 minutes runs about 7.5 kilometers.
If the door of Paradise is not enough, you can also address the Walk of faith, the path which runs along the eastern side of Mount Tianmen on a glass walkway, about 1500 meters from the vacuum. The transparent bridge is 60 meters long and is only for those who really do not suffer from vertigo.