The first Hard Rock Hotel in Europe, a 5-star hotel located in Playa d'en Bossa in Ibiza, will be inaugurated on May 18. Ambition: to become a meeting point for enthusiasts, international celebrities and lovers of the new trends, all in the wake of the philosophy of the famous American chain Hard Rock hotel, harmonized according to the vibe that characterizes Ibiza.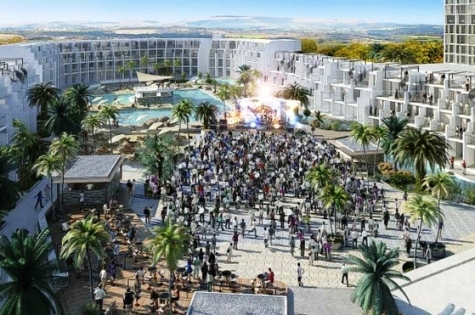 A Hotel, but also a meeting place, where cutting-edge technology is combined with the comfort of a five star hotel where everything is music. A hotel in the ambitious intentions of the designers, where every corner has been thought to live an unforgettable, full of sensory experiences, a place where entertainment is unique and amazing.
Every corner of the structure is presented in a avant garde style furnished in harmony with the well known Hard Rock style, with numerous references to the world of music. And as in every Hard Rock that respect, even from Ibiza can not miss the memorabilia; the most exclusive suite host Celebrity Memorabilia like David Bowie or Bob Marley, dating back to their visits to Ibiza.
And even without having the portfolio suitable to live in these special suites, all rooms have a unique program that allows you to enjoy a personalized musical sequence, so you can be the DJ of your own room (or play your favorite guitar).
And during the summer, every Friday will be, will be an opportunity to attend live concerts by international group, a structure capable of holding over 2,500 viewers of all ages. Not only that, but the pool and the various chill-out areas will become the theater of spectacular events.
And then again, a wristband RFID (Radio Frequency Identification) for access to the rooms, the connection to social networks and the payment of hotel services, a symmetric connection Wi-Fi broadband free of charge for hotel guests, a modern Rock Spa, 1,300 square meters devoted to well-being, Body Rock, the gym where you pump the rhythm of rock, and the inevitable Rock Shop®, with its Hard Rock articles and exclusive collection of Ibiza.