In the twentieth century, the city of Monterey in California has experienced significant growth, thanks to fishing and processing of sardines. The sardine fishing was really rich in the bay, and the catch, was weighed, selected, trimmed, cleaned and packed in cans, ready for cooking. At the height of the boom in 1940, Cannery Row worked around 250,000 tonnes of fish every year and was the center of an area which at its best has employed 4,000 people.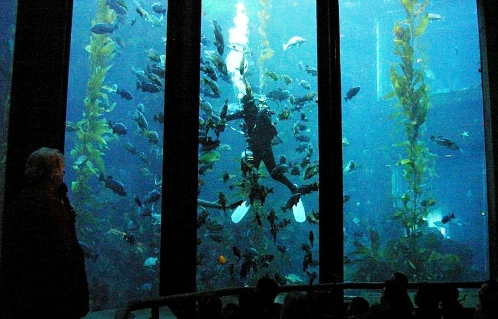 Cannery Row, the Monterey Waterfront Road, is the famous novel by John Steinbeck, who with his next novel Sweet Thursday, in 1982 was brought to film by Nick Nolte and Debra Winger. And that is why, after the last sardine factory closed in 1973, the then Ocean View Avenue, was renamed in Cannery Row in honor of John Steinbeck.
The last factory, the Hovden Cannery, the one that closed its doors in 1973, still exists today, only that changed destination to the factory for processing fish aquarium, with the mission "to inspire conservation of the oceans". Sure, the Monterey Bay Aquarium attracts so many people, if its opening in 1984 until today, has become the 2nd most visited aquarium in the United States.
The aquarium comes with more than 100 galleries and exhibitions to create marine habitats of Monterey Bay. Among the most spectacular habitats the imposing giant kelp forest, brown algae characteristics of the seabed, housed in a three floors tub of 335,000 liters and the tub from one million liters of water that hosts a shark with some tuna.
But the big attraction is the large bay window overlooking the outdoor marine tanks, which from their opening in 1996 have also hosted some great white sharks. The aquarium, which also houses a colony of penguins (eat from 10:30 to 10:45), is open from 10 to 18, and tickets cost $40 for adults, $25 for children up to 12 years.