The Manta Resort realizes a new concept of relaxation submarine. On the coast of Zanzibar. Here is the underwater room.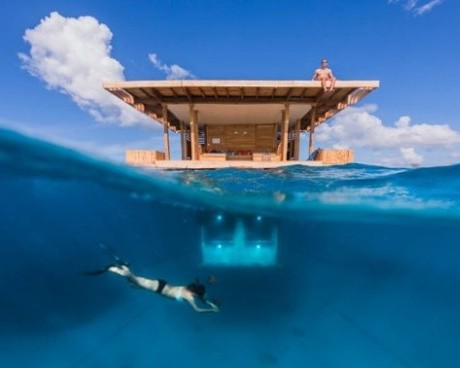 It is a suite of three levels that floats in the middle of the reef with a double bedroom surrounded by windows to see the underwater world.
A mini private floating island, with a room four meters below the surface. And the Manta Resort. It allows you to soak up the sun and watching the stars, lying on the deck raft, sleeping surrounded by a tropical marine environment.
"Put water on fire" around you, at night, from underwater camera. Here is the idea of Manta. Something absolutely breathtaking. It is located near the tropical island of Pemba in the Indian Ocean.
The tiny artificial island is 250 away from its coast: a floating structure made of local hardwood and held in place by several anchor lines that lead to the ocean floor.
The project of Mikael Genberg, the Swedish company Genberg Underwater Hotel. Three layers make up the floating building: a raft terrace for sunbathing during the day and watch the stars at night, a platform at sea level has a living room and bathroom, and finally a underwater hotel room below, surrounded crystals for a seascape at 360 degrees.
The rooms, at night, with several spotlights illuminates the space surrounding ocean, creating a spectacular lighting effect also visible from Pemba and attracts around obviously a large number of marine species.