Built in 1923 as a water tower, the building originally pretended already for what was not, trying to blend in with the other surrounding buildings.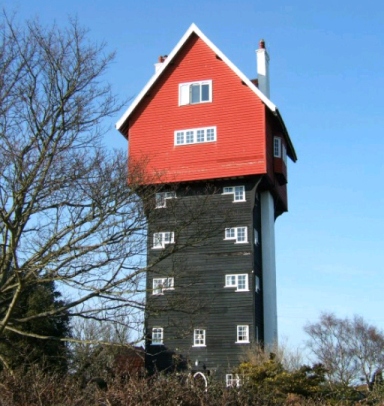 It was, in fact, an attempt to insert a functional structure, certainly not beautiful, without disturbing the urban fabric of Thorpeness, in the English region of Suffolk. Worthy attempt given the era in which it was made, though with mixed results, as even then, the terminal part of the tower seemed to be floating in the trees.
The Tower has done its duty, handing out the water in the tank is hidden inside the fake House, until 1977, as technological innovation, the new water system in the country, has destined to the guesthouse. But two years later, when the tank was completely removed, the House in the clouds was destined to new life, becoming a holiday home, up in the clouds, in the tranquil English countryside.
Some strange, however, is having regard to the structure. On the ground floor are the kitchen, dining room and a bathroom, on the first floor living room, two bedrooms with bathroom, third floor bedroom and master bathroom, the fourth floor two other bedrooms with a bathroom, on the fifth floor games room and views over the countryside.
All this, for a total of 67 steps and 5 landings, complete with a sofa, to rest during the ascent from one floor to another. The house in the clouds, to 180 km from London.