A long coastline that stretches softly on the horizon, fine white sand, dotted with the remains of the storms, the crystal clear water of the sea, which turns on all the colors of the blue and blue. A pristine coastline, dream beaches.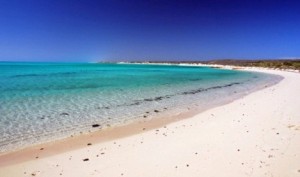 We are in Australia, the state of Western Australia, and then over the waters of the Indian Ocean, and Bundera is not a country, a village, four houses on a cross road junction; none of this, but only a name, a name given to indicate a place. In this case, because it serves to indicate, about a kilometer from the coast, a sinkhole, a karst cave full of sea water.
So no bar, no plant, no parking, because we are in a protected natural park, the Cape Range National Park in Western Australia, which more recently has added the Ningaloo Reef, the reef front, suddenly Sea known for sightings to (harmless) whale sharks.
The opposite coast to Bundera Bundera, is a series of bays and coves, some protected, some accessible, including camping, hiking (the area is inhabited by the red kangaroo and wallaby) or snorkeling.