Whether you're familiar with the city of Ottawa or that you are about to visit it for the first time, you have probably already heard of the famous Rideau Canal. This single channel is so entrenched in the lives of the residents of Ottawa and its tourists, whom you cannot make differently than to take one moment to contemplate it at the time of your next visit of the Canadian capital.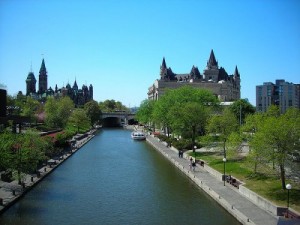 The Rideau Canal connects the city of Ottawa to the city of Kingston, representing a 202 km waterway, of which 19 were built by man. It includes sections of the Rideau and Cataraqui rivers, as well as some Lakes. The channel has 49 locks, which are operated manually. Its construction was completed in 1832, making it the oldest still functional channel system in North America.
It was designed and built by the British Empire, which today is Canada, with a goal of military procurement. Attacks and invasions on the part of the United States were to fear at that time. However, the canal was never used for its primary purpose, as the feared attacks never took place.
Today, Rideau canal is not only a waterway linking several towns between them; It is also a tourist attraction that is important as well as a priceless sense of pride for those who use it every day.
During the summer season, in addition to a canal boat tour, it is pleasant to take a walk along its banks, or even to walk in skating, rollerblading or cycling.
Other companies allow rental pedal boats, canoes and kayaks to explore the waters of the canal on its own. Others offer excursions by boat with a guide who tells of the material facts of the history of the canal and the city, in at least two languages.
Those visiting Ottawa in August may participate in the Rideau Canal Festival, a festival that celebrates the canal with tours by boat, music, bike tours and exhibitions of art and photographs. Several activities are organized especially for children.
In winter, the section of the channel which crosses Ottawa is transformed into the largest skating rink of the world, with a 7.8 kilometers length. It is then about a major tourist attraction in the area.
In addition, winter as summer, many museums, art galleries, restaurants, cafes and shops are located close to the canal. Various festivals and family activities are organized at all times, allowing anyone to spend a rewarding holiday in the heart of Canada's capital.