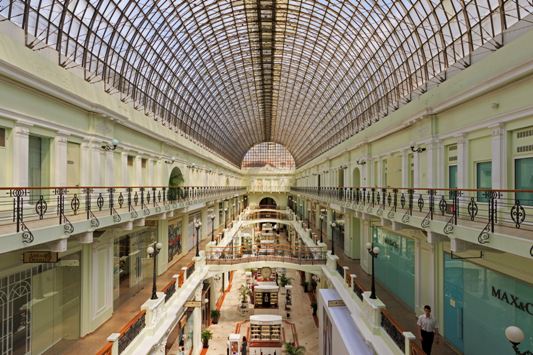 Petrovka Street (stops of the spectacular Moscow Metro on lines 1,2,3,7 and 9), with the Old Arbat Street, is probably one of the busiest streets by tourists visiting the capital of Russia. On this road in fact, among the many and various luxury shops, offices, hotels, night clubs, there is the popular TSUM shopping center, the headquarters of the Moscow Criminal Police, but especially the Petrovka Theatre, better known as the Bolshoi Theatre.
There is also the historic Petrovsky Passage, built in 1906 to designs by Vladimir Shukhov, the architect whom we owe the GUM department store, those occupy the whole side of the Red Square in front of the Kremlin.
The building, a structure with arches covered with three galleries surmounted by semi-cylindrical vaults glass, is also popular for the exquisite craftsmanship of the walkways that are located on the second floor.
Privatized after the fall of communism, today the building houses is the one of the most popular shopping centers in Moscow, particularly appreciated by buyers for the luxury goods.
Even if our pockets are not as roomy for this kind of items, a walk inside this shopping center is one of the things to do in Moscow (but do not forget to see!).
image: wikimedia