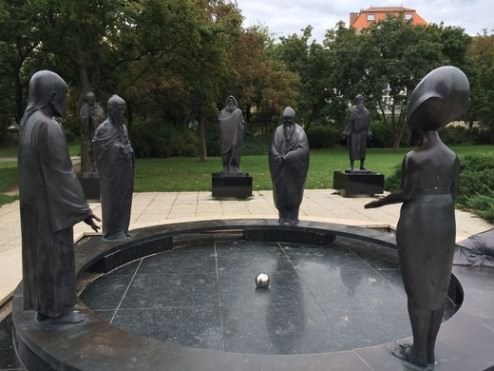 Let's start from the bottom: Budapest, Hungary's capital that still lives with its florins, is a beautiful city that offers many attractions to the tourists.
The Splendid Parliament, the thermal baths, the opera house, the Royal Palace, the beautiful Matthias Church, the ghetto and the Synagogue, Vaci utca, shopping street, a nice ride with tram route number 2, the bars on the ruins, the moving shoes on the riverside of the Danube, and much more.
Budapest is also much more, perhaps less well known, like the Garden of the Philosophers, a garden where the impossible becomes reality, with Jesus, Mohammed, Buddha, Akhenaten, Laozi, gather in meditation, observed closely by Saint Francis of Assisi, Ghandi and Bodhidharma; more distant, other figures that make up a third circle: Hammurabi, Justinian I and the Prince Shotoku. Maybe a representation too "charged", but certainly very charming.
A representation that captures what unites mankind, aspiration to the absolute, God, the desire for peace and prosperity for all that was the idea of the Hungarian artist based Nandor Wagner, who died 19 years ago.
The Garden of the Philosophers is on the Gellert Hill, which definitely will visit, because that's where the Citadel is and from where you can enjoy a wonderful panoramic view of Budapest.