The location of Castiglioncello del Trinoro, Val d'Orcia, probably means nothing to you. Yet it is a medieval city, which falls in Sarteano, protected by UNESCO, one of the many treasures of Tuscany. Castiglioncello is located: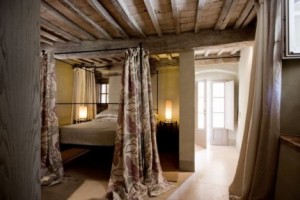 Overlooking the Val d'Orcia about 5 km from Sarteano, on a large hill about 800 meters above sea level near the source of the stream Oragnano, on the road leading to Val d'Orcia. The village of medieval origins, was once a free town surrounded by walls with a keep in the middle position dominant. To visit the Church of St. Andrew and the door of the sun which gives a beautiful view of clays and lush forests.
The description makes you want to take a ride in the area, because we are pretty close to various thermal zones (Bagni di San Filippo, San Casciano) and areas of excellence such as the Monte Amiata, Castiglione and San Quirico d'Orcia, Pienza and Montalcino. And to do a really relaxing weekend is a suitable foothold, a place to sleep and refresh themselves properly. Such as Monteverdi, a property built in the ancient village that has 7 rooms and 3 villas that can accommodate from 4 to 12 people, at a cost, for villas, from 4 to 12 000 euro a week.
The 5 rooms and 2 suites start at 250 euros per night, including breakfast and use of the pool, but perhaps in this period could not be too attractive. The rooms are designed to evoke a bucolic and romantic atmosphere, facilitated by the possibility of having a baby sitter to take care babies.