1. Because you do not need to be locked 8 hours on a plane to cross the Atlantic in search of Caribbean beaches. Just 2 hours from Madrid or Barcelona find one of the largest and most pristine stretches of sand, Maspalomas.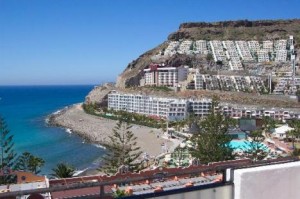 An extraordinary beach located south of Gran Canaria which draws a single spectacular dune landscape on the island of endless beaches of golden sand. Stroll, relax, sunbathe and enjoy this beautiful desert landscape with views of the Atlantic.
2. Because in spite of traveling to a tourist destination, common sense and the good work in the development of the area, have made ​​its hotels is important but not abusive. For example, you will not see the town beach, but you can stay in luxury hotels in the Canary Islands with sea views. Among them, the best location, the Seaside Palm Beach a beautiful 5 star hotel that will charm you with its unique location and its decoration kitsch and colorful contrast to the tranquility of its facilities. Although if you want something more intimate and private, definitely choose the Seaside Grand Hotel Residencia.
3. For Gran Canaria has an Association, Gran Canaria Spa, Wellness & Health, who watches constantly because the rest and relaxation during your holiday in Gran Canaria is insured. Hotels, doctors, treatments and offer all the imaginable.
4. Because if you are someone who is overwhelmed with sand from the beach and umbrellas, you can improve your swing at any of the golf courses in Gran Canaria and stay in a hotel inside where you will not need for anything because the Sheraton Salobre has everything. Spa, golf, dining room and beautiful spot where the lunar landscape canary island.
5. Because if you need even more relaxation, you will find fabulous spa hotel Lopensan Costa Meloneras that more than a wellness space, is a theme park of sensations. In the Corallium to relax it is assumed, the important thing here is to experience the many benefits you'll find facilities: from a fabulous swimming pool float up to a room of chromotherapy, African sauna or a room that simulates the womb. If you are one of the most demanding and that you know little, book an Ayurvedic massage at the hotel Gloria Palace Amadores.