The 100th anniversary of the Engelberg–Gerschnialp cableway (in Switzerland), which came into operation in January 1913, they deserved to be celebrated in an appropriate manner.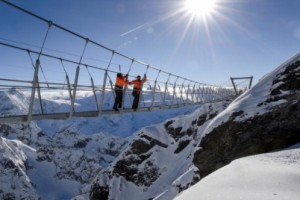 And then the Titlis Rotair has decided to build a suspension bridge, the highest in Europe, which devote a meter in length for each year of the centenary. Hence, for the more adventurous, for those who do not suffer from the cold and even dizzy, the bridge that rises to as many as three thousand meters above sea level, although the rocks and the valleys are much closer.
The suspension bridge will complete the offer of the Titlis, which already has about 210 km of slopes covered in Snow Paradise Hasliberg-Frutt-Titlis, with many entertainment options for those who love the high altitude and snow sports. On Mount Titlis primates seem to accumulate: here it would be built – and it is obviously working – the world's first rotating cable car.
And on December 21, who does not want to assist real Mayan apocalypse are offered the opportunity to participate in a fun event: a downhill night sledding, lit by torches along a 3.5 km track that combines a Gerschnialp Engelberg. The package, if you like, complete with a nice dinner of Swiss fondue at the arrival in valley.