Do you know a windmill in Jerusalem? Yes, and is also considered a historic site. One of the first structures to be erected outside the confines of the old Jerusalem in 1857, the mill would have to be a symbol of progress and industry. It would, because the mill ceased almost immediately to operate until it was brought back to life a century later.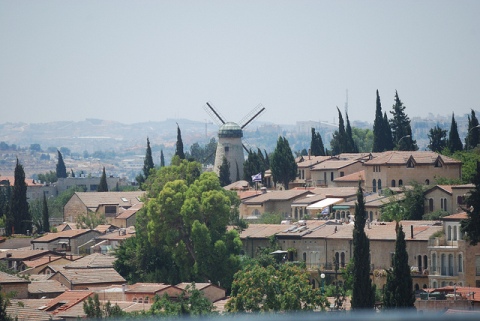 Built by an Italian jew philanthropist (Livorno), then naturalized as English, Moses Montefiore, the windmill was supposed to be the beacon of the future of the new Jerusalem. The four-blade tower was completed in 1857, in an area where they thought they would have to develop industrial activities in the city.
Designed in the style of windmills in Europe, the mill was built to grind grain. Unfortunately, despite good intentions, the wind in the area was not strong enough to power the mill in a reliable way, which in itself was not really designed to address the most resistant crops in the area.
The mill remained in operation for only 18 years before it was made obsolete by other methods of production of the flour. But if it failed from an economic standpoint, it managed to attract the next housing development in Jerusalem.
Bombed by the British in 1948, the damaged building remained empty for several decades, until 2012, when, as part of the celebrations of the 60th anniversary of the founding of Israel, the mill has been completely renovated.
Today Montefiore Windmill is a monument that celebrates the birth of the modern state of Israel, in addition to being used as a museum dedicated to the life of Moses Montefiore. Now the blades its blades spin five days a week and the mill has become one of the attractions of the city.