Summer 2014 to remember for Gaeta, 20,000 inhabitants on the Tyrrhenian coast, between the most beautiful towns in Lazio. Having regained the recognition of the Blue Flag by Fee (one year lost because of the "garbage"), is now in the spotlight of media attention thanks to Temptation Island (formerly titled True Love), the program produced by Maria De Filippi, who is turning right at Gaeta.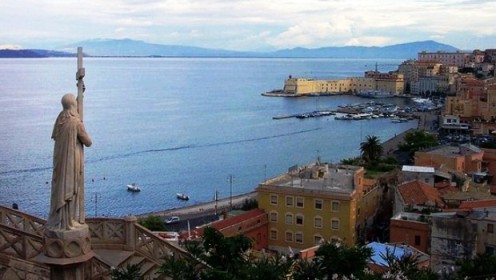 Gaeta, which gives the name to the gulf, is located about 80 kilometers from Naples, 120 kilometers from Rome, and perhaps to reiterate its proximity to the "historic" to the city of seven hills, the town of Lazio is also touted as the city ​​of seven beaches. Advertising aside, Gaeta is well known to all those who love the sea, and do not put fear in front of kilometers to reach the beautiful gaetane beaches.
Even the great history of Rome, well visible in the Mausoleum of Lucius Munatius Planco, which dominates the city, the castle, the result of several "rearrangements" in the course of the centuries, the majestic Temple of San Francesco, the Gothic Sanctuary of the Santissima Annunziata, 57 meters of the spectacular medieval bell tower of the Cathedral, the spiritual sanctuary of the Split Mountain, which rises in a cleft in the rock that reaches into the Cave of Turkish. And to come to the present day, even the small pearl of the Municipal Gallery of Modern Art. In addition to Gaeta itself, of course, with its old town of medieval origin, and the fishing village.
Sea, history and nature also, that the aforementioned Split Mountain, which offers a large and fascinating panoramic view, and one that you can enjoy walking along its paths, such as those of Sperlonga, Gianola and Monte Orlando.
With all these attractions, no surprise that Gaeta grow and face the pride of their own tradition of tourism, also topped by excellent local cuisine, where the "national" black olives from Gaeta, alongside the excellent sauces prepared with local tomato, which is used in many fish dishes.
And if you're in mid-August to Gaeta, you can not help but witness the impressive procession of the Virgin Mary, patron saint of fishermen and sailors, which ends in the sea in memory of all the victims of the sea, of course, very much felt in Gaeta.