Not only resort and casino, but also many tourist attractions, such as a colonial center dating back to when the city was ruled by the Portuguese, or a new and interactive science museum, especially suitable for children, or fans of Piero Angela.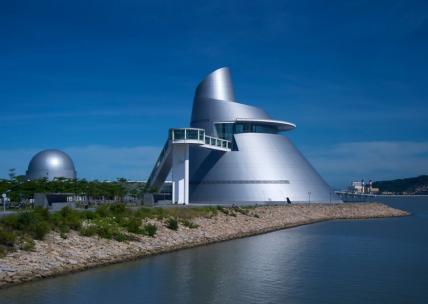 We are in Macau, not far from Hong Kong, with which it shares a colonial past, only difference is the flag that was beating on the city, which was not the Union Jack, but the red and green of Portugal. Today Macau is part of China, but still enjoys some autonomy, as its own police force, its own currency (Pataca) and its own flag.
The museum is one of the main attractions of the city, if only for the architectural design, the main building, asymmetric, in fact it was built with a distinctive conical shape with a spiral walkway and a large indoor atrium.
The interior, as well as exhibition spaces, where the science is explained through "experiments" interactive (allow 3-4 hours with the kids), it also houses a planetarium and a living room with 3D projection equipment. Inside also a MC Donad and an ice cream parlor, for the happiness of children. Excellent observation point of the bay.