The Guardian rightly describe it as an ideal place to contemplate and reflect, for sure is an attraction-even-very special architectural worth visiting if you go in South Korea: The Toilet Culture Park, which is located in Suwon, the first museum in the form of TOILET dedicated to "go to the bathroom culture".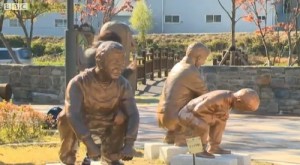 The theme park is located in what was the home of the former mayor of Suwong, Sim Jae-duck, who in the 80s was a great promoter of dissemination in the country of the toilet as we know it; always according to the Guardian, it seems that visitors are invited to use what was his own bathroom. A museum this, that among the memorabilia on display has the signals for the toilet from around the world.
Then there are the toilet from various historical periods and from different parts of the world and in the garden there is an installation of bronze statues… well you know!