A floating hotel, shaped like a snowflake. It is the Krystall Hotel, a innovative hotel, made entirely of glass that will be built in Tromso, 350 kilometers north of the Arctic Circle.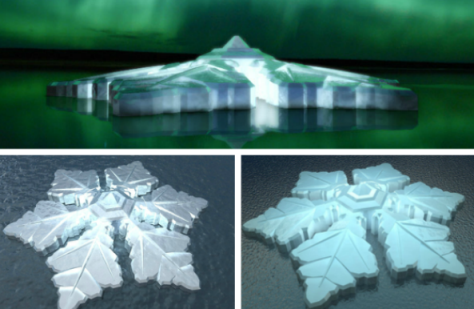 Here, in exactly one month and up to 21 January, the sun disappears behind the horizon and will arrive the polar night: during the day the sky is completely dark, but it is tinged with a blue light only.
Designed by the company Dutch Docklands, the structure will be made of transparent glass to allow viewing the beautiful landscape of Norway, rich in fjords and mountains. The glass roof, so you enjoy a truly unique spectacle view: the northern lights, enchanting atmospheric optical phenomenon, which consists in the appearance of bright bands in the sky due to the interaction of charged particles of solar origin with the upper layers of the atmosphere. All this takes place at about 100 kilometers above our heads.
Work on the realization of the Krystall Hotel have already been started and will be completed by 2016, when the facility will be operational. The hotel will be exclusive, with about 86 rooms, spa, fitness centers, conference rooms and all amenities for travelers and tourists.
Luxurious, comfortable and wants good for the environment: it seems that the structure will have an ecological impact of zero and that it shall not hurt any kind of damage to the marine ecosystem.
To access the Krystall Hotel – built by Dutch architects, town famous for its floating structures – must be equipped with a boat, since access is only by boat. The idea of the sea comes as the idea of expansion of new surfaces and at the same time reduces the buildings on the land surface, obtaining new spaces in special places like the sea.