Snoopy, Charlie Brown, Sally, Lucy, Woodstock and the other Peanuts are your favorite characters? Then there is a place for you: the Charles M. Schulz Museum in California.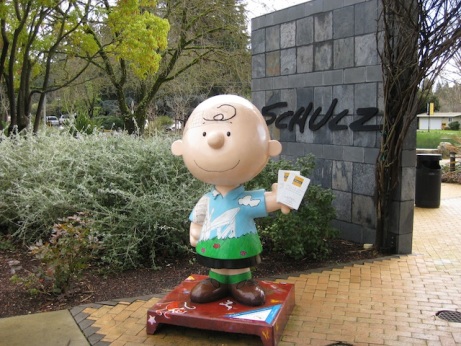 Opened in 2002, The Charles M. Schulz Museum and Research Center is a museum dedicated to the works of Charles M. Schulz, American illustrator and cartoonist, creator of the historical Peanuts comic strip.
The museum is located in Santa Rosa, California and really wonderland for fans of these characters: indeed inside there are many original cartoon strips, but also other works of the cartoonist.
But the item that leaves you open-mouthed at the entrance: here was placed, in the Great Hall, a wooden sculpture depicting the evolution of Snoopy, created by Japanese artist Yoshiteru Otani. Also in the central hall there is a 6.7 meters high mural ceramic, made with 3588 Peanuts strips. The image is made that famous Lucy holding the football ball to Charlie Brown because the kicks.
The Museum presents inside and temporary exhibitions, but numerous permanent exhibitions, as a work by Christo depicting the doghouse of Snoopy, objects that belonged to Schulz of his personal study and many tributes and homages to the designer by other artists.
The times of the museum: from Labor Day (the first Monday in September) to Memorial Day (the last Monday in May) is open every day except Tuesday from 11 to 17 and on weekends from 10 to 17. The cost of entry ticket is $10, $5 for over 62 and for students, while children up to 3 years old are free.
The reach in Charles M. Schulz Museum is easy, there is even a small Sonoma County airport, about 15km from Santa Rosa, which is dedicated to the cartoonist, with direct connections daily to and from Los Angeles, San Diego, Seattle and Portland.