Take a machine similar to those used on golf courses to move from one hole to another. It is equipped with iron wheels and throws it on the tracks of an old disused railway.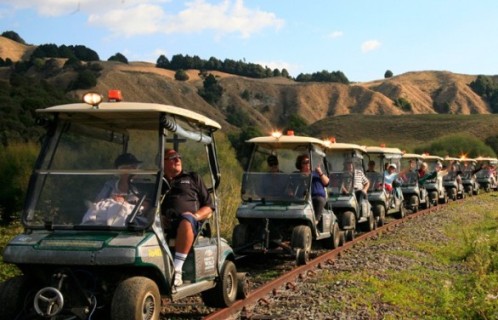 You will have almost all the elements to understand what is meant by Kiwi Express. Experience a journey to discover the tracks of New Zealand in an unusual and slow, since the speed of the cars is limited for safety reasons.
It offers 4 different routes: The Rail and River Run starts from Taumarunui for a ride of 5 hours between rail and boats on the river. The Republic Rail Picnic provides a ride, of course with lunch on the grass around the hills of Whangamomona. The Twenty Tunnel Tour leaves from Okahukura station to cross numerous galleries and discover the only city that declared itself a republic in 1989. The Ultimate lasts two days and consists of 140 kilometers of track between Okahukura and Stratford, with overnight stay at Whangamomona and 24 galleries to cross.
Used vehicles, rail cars or called speeders, come from a golf club in Georgia (USA), can carry 2 to 4 people and – organizers say, they are comfortable and safe. Work on the railway Stratford-Okahukura began in 1901 and lasted 32 years. With picks and shovels were dug 24 tunnels for about 10 kilometers of indoor track. Decommissioned in 2009 after a serious derailment, the line was chartered by Kiwi Express in 2011.