Castle is a unique example and rare in Italy for its consistency, continuity and lightness of Gothic Revival style inspired by the sixteenth-century English Gothic. British art experts have defined the architecture as one of the purest expressions of reinterpretation of the Gothic Tudor in Italy. Set like a jewel in the vastness of the park, the castle is a setting of great prestige and timeless charm.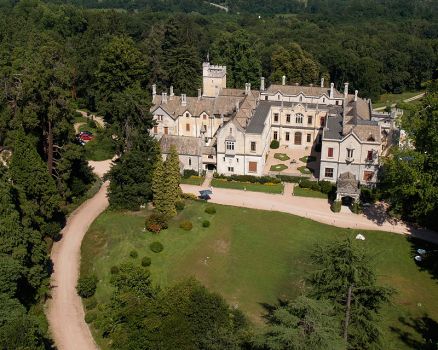 The 5-star of the Castello Dal Pozzo shine above the 30 rooms of the palace of the eighteenth century and the eight historic home, behind facades in pastel colors and decorated with arches and stone mullioned windows.
The large living rooms, wood countertops, decorations, armor, frescoes, huge fireplaces, towers, gardens and fountains bring to mind a noble residence of the English countryside. A feeling that you will be able to further consolidate sleeping in one of the two junior suites of the Tower, which is accessed via the stairwell.
Simulating a reservation in late July, the rooms range from 230 to 428 euros per night (in the wellness suite) suite, while you can enjoy with 368 euro the romantic getaway in the Tower room: overnight stay, dinner, breakfast in bed, sparkling wine and delicacies on arrival.