If you're in the Netherlands, and ask what the most unique place (nice) to see where the famous Dutch windmills, will answer Zaanse Schans, if you find yourself in Amsterdam, Kinderdijk, but if you find yourself in Rotterdam.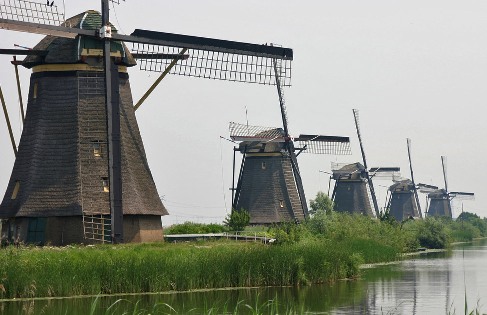 Kinderdijk, however, unlike the Zaanse Schans, can boast of being a UNESCO protected site, which describes it thus: "The extraordinary contribution by the Dutch to the technologies of control of water is admirably demonstrated by the installations in the Kinderdijk area. Hydraulic works for the drainage of land for agriculture have been put in place since the Middle Ages, without interruption to the present day. The country is the actual demonstration and functioning of all works associated with this technology, such as dams, reservoirs, pumping stations, administrative buildings, and of course a series of beautifully preserved windmills".
To count them are 19, all dating back to 1740, all functioning, although to see them at work, it is necessary that the weather conditions play in favor. One of these 19 mills is a veritable museum, Museummolen, open every day from 9:30 to 17:30 from April to October (in the remaining months only open on weekends).
Parking entrance, but given that the country is only 15 kilometers from Rotterdam, there are many visitors who come here from the bike. On place you can also take advantage of the boat tour, which offer the possibility to admire the windmills water. Things to see in Holland.