Do you like museums? So, if you go in Iceland do not forget to visit the famous Icelandic Phallological Museum of Husavik. Yes, you read that right, it's Icelandic Phallological museum, a large collection (perhaps unique in the world), which collects faults belonging to different species of mammals.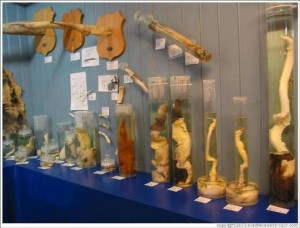 But make no mistake: this is not a whim of some fetish, but a scientific necessity, as it is a Philology science almost unknown but studied. The collection contains almost 300 faults of many terrestrial and marine mammals in Iceland: whales, bears, seals, moose and many other mammals that live in the cold country. Among them also an organ donated human post-mortem by a 95 year old.
The museum was founded in 1997 by the will of a historian, Sigurdur Hjartarson, that early collected penis of dead animals, especially marine mammals. At its opening, the collection had 62 different faults and over time has been enriched.
Visitors are always many, in recent years were recorded 15thousand visits in the summer. Very curious place and definitely worth a visit (11-18 hours daily), if nothing else to see "the strong piece": a penis of whales that measure well 1.70 m.