India is an old and mystical country. It is also a country that is well known in popular culture, most of us have heard of Bollywood, of course. India also became more popular after the movie Slumdog Millionaire. Although it has always been a popular tourist destination, it has become a popular driving destination since the popularity of the program Ice Road Truckers. No, there are no ice roads in India! The drivers of the ice roads, however, wanted a challenge during the time they can't drive and so started the world's most dangerous roads series, India being their very first destination.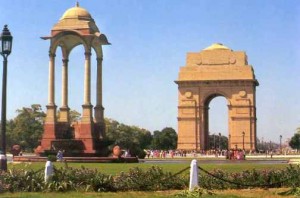 The Golden Triangle
The Golden Triangle is one of the most popular driving holidays in India. You do need a good seventeen days, including your travel to and from India in order to be able to enjoy this. If you have seen the Ice Road Truckers journeys in India, you will know that driving in India does have its particular challenges, even if you are driving a car rather than a bus or truck. For instance, you shouldn't drive at night. Since the country is so big, you do need quite a lot of time to drive from one area to the next. Hence, you need those seventeen days at least in order to be able to enjoy all that India has to offer.
The Itinerary
You will start your journey when you arrive in New Delhi; an ancient city that has a modern feel to it. From the second you arrive you will immediately be confronted with India's amazing friendliness so make a point of spending at least two days here, taking the time to see the sights. On the third day, drive to Mandawa, which should take you about six hours (272 km). Mandawa is known as an open air art gallery, that's how beautiful the city actually is. The next day, you should drive to Gajner via Deshnok, which will take you around six hours (286 km). You will see the beautiful countryside and some fantastic ancient temples.
From Gajner, drive to Jaisalmer but take the time to stop over in Pokhran. This will take you around seven hours (305 km). Pokhran is now a popular tourist destination but it was once the site of underground nuclear testing. Scary! Jaisalmer is a true desert city, which should not be missed. You should spend at least a full day here, not in the least to give yourself some time to recuperate from all the driving. The next day, go to Jodhpur, which will take you around six and a half hours (322 km). You may want to spend a day here too so be sure to plan ahead so you know what attractions you have time for.
On the ninth day, drive to Udaipur via Rohet and Ranakpur. This will take around 6.5 hours (257 km). Spend a day in Udaipur. On the eleventh day, drive to Pushakr through Devi Garh and Ajmer. This should take seven hours (324 km). On day twelve drive to Jaipur (three hours for 155km) and spend a day there. Then drive to Ranthambore (four hours for 147km) and then to Agra (seven hours for 271km). On the sixteenth day, you will drive to Delhi (five hours for 211km), where you will spend your final day.