Among the most dangerous roads in the world there is the Stelvio Pass, among the finest in the world, there is also the Irish Causeway Coastal Route.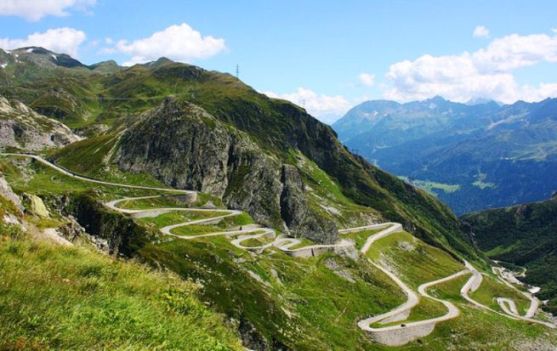 And while we wait for the ranking of the best scenic 10 odd roads in the world, here we mention the Ring of Kerry, in Ireland, the Serra do Rio do Rastro in Brazil, the Stuart Highway in Australia, the Route 66 in the USA (of course), and the Gotthard pass, which in terms of spectacle does not have much to envy to other roads.
The pass, which links the valley of the Reuss (the fourth longest river in Switzerland) and the Leventina valley (the valley formed by the river Biasca Ticino to Bedretto), is known for always being one of the main alpine passes, one of those that enabled the great migrations in history.
Without going too far back in time, the middle of the 16th century when it was rebuilt the trail crossing up, we can say that the first driveway goes back to the first half of the 19th century. Thanks to this work an a stagecoach journey between Milan and Basel required only 50 hours!
The old road of Passo della Tremola climbs with hairpin bends of paved in granite to the Hospice of San Gottardo. On top of the pass (2109m) is the San Gottardo National Museum, which displays the development of the pass and of transit traffic. For that not in hurry you should always take the old road, still partially paved in granite.
Currently there are two tunnels below the pass, one railway and one road, and is currently building a third tunnel, always train, when it will be finished, with its 57 km, it is the longest in the world.