In the United States there are so many parks, spectacular scenery, spectacular natural, that eventually some of these are overshadowed by most famous, like the case of Goblin Valley, the Valley of the Goblins, in the western state of Utah.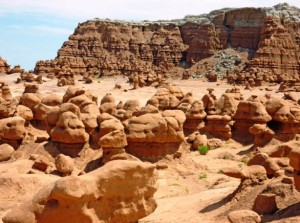 The main feature of the park, are its rock formations, commonly known as Fairy Chimneys, the most famous of which are the pyramids of Goreme, in Turkey.
Obviously, the valley was well known to Native Americans, but we "whites", discovered the valley, only in 1920, by chance, given that the discovery is commonly attributed to the cowboys who were looking for calves, escaped from the herd.
Three marked trails for trekkers, though it is normally visit with a 4×4. The park is located about 300 km southeast from Salt Lake City. The entrance costs $7 per vehicle per day, and the place to camp is $ 16; $60 for the bungalow.