If you are talking about a luxury vacation, of enormous size, artificial islands and skyscrapers at will, you guessed it … You are in Dubai!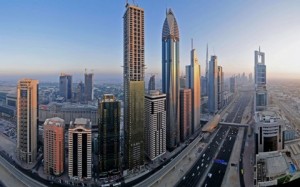 Do you dream of luxury or just an incredible experience to tell your friends? Dubai is the ideal destination for your dream! And guarantee of vacation where you can't get bored. Indeed, the unusual places almost out of the imagination are many in Dubai.
Starting with one of the great curiosities of the country: Ski Dubai. At the heart of the Arab Emirate in the subtropical climate and the center of the huge shopping center Mall of Emirates stands an indoor ski slope of 400 meters long. You will understand, because the sandy beaches were not enough, Dubai has decided to offer a bit of holiday snow despite a winter that never drops below 20° C.
Speaking of beach, guests can enjoy during vacation long sandy beaches for relaxing or water sports offered at many clubs. Worthy of postcards, decorated with coconut trees, they have nothing to envy the islands.
Spend your holiday to visit the city is also interesting. Everything is so big and bright, often works of renowned architects, admire the tall buildings of Dubai never tires. First, visit the famous Palm Island, the famous artificial island shaped like palm, the largest tourism project worldwide!
If you do not take a room, the hotel Burj Al Arab, the world's most expensive, must be seen at least once: it is the largest hotel in the world and the only one who could ever have get seven stars. Built on an entirely artificial island, it is surprising, with its 321 meters high, it is impressive, with its unique sail-shaped, it has something to marvel. But beware; even the visit of the hotel is paying.
Do you like shopping? Dubai has very many brands of high prestige duty-free.
But the country is also proud of its history and its culture, a tower in the souks offer you so full immersion in the Arab culture, as his Museum, which brings together more than 4,000 years of history of the country.