Venice is the city of lovers, the city of the Doges and their palaces but it's also a strange city where the streets are made of water… No wonder that the means of transport have been adapted!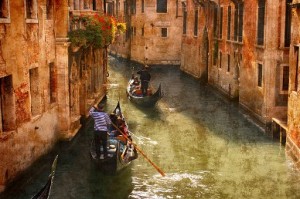 The means of transport most used is the vaporetto in Venice. These small boats crisscross the city but also the Venice lagoon. The ferries service the islands of Murano and Burano, famous for their crafts. This dense network of public transport therefore allows you to move in the city or in the lagoon as you would otherwise by bus or metro. Lines the most popular with tourists are the numbers 1 and 82 who travel the Grand Canal and offers a beautiful view of the palace.
The motorboat is a variant of the ferry but the routes taken are different. Lines of the ferry and the motorboat are serviced regularly and the average wait between each boat is 10 minutes.
If you want to stay near the Grand Canal, you can also use the traghetoo, a large gondola that takes you across. This model "in common" does not have the charm of the classic gondolas, but there is a very practical and very affordable transportation. The lovers will choose gladly for a discovery in private gondola… Check with the gondolier on the route and fares (which can vary greatly from one vessel to another).
For trips more specific, do not hesitate to call a water taxi: if you have the budget, it remains the most comfortable and fastest way to get from one site to another in the heart of Venice.
Enjoy in Venice in the heart of downtown for a walk around the secrets of ancient streets and see sumptuous palaces. The heart of the city can pass through a 45 minute walk during which you can admire the main monuments that are also very well marked.