Among the many sites protected by UNESCO on German soil, now let's see a really little known but that deserves to be inserted in your next trip to Germany. We are in Quedlinburg, Saxony town located north of Leipzig.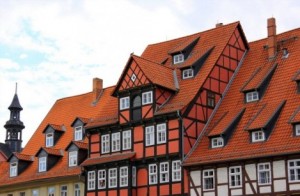 Its 25,000 inhabitants – and tourists who choose to stay in these parts – can enjoy a truly remarkable historical center, rich in medieval and Renaissance buildings and sites. Five centuries of history can be found in the squares and in the streets, whose origins date back to the tenth century.
The main attraction of Quedlinburg is the heart of the Old Town, where you walk through the cobbled lanes, admiring the half-timbered houses, the building features alternating lime painted wooden elements, recalling the medieval atmosphere offering curious and construction details. The oldest of them dates back to 1310 and its interior has been made the Standerbau museum. Do not miss the market square, which overlooks the rich Renaissance facade of the Town Hall and the Roland statue, which dates back to 1426.
To find a beautiful view of the old town and the surrounding area have to climb the hill dominated by the castle and its extensive gardens. A Quedlinburg, until December 23, is set up a medieval Christmas market, which on Friday and Saturday is open until 22.