There are places that are linked to a nickname and no costs associated with both. That happens to Medellin, which almost automatically is recognized by the Medellin cartel, that criminal organization involved in drug trafficking.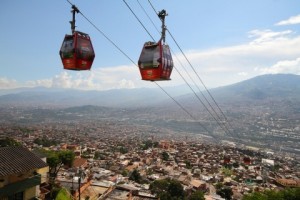 That makes that the city be granted, even today, the adjective of very dangerous and troubled place. The case is that, data in hand it is, because it has a ratio of 70 homicides per 100,000 inhabitants, but the truth is that it is very far from the figures of the past.
Lying if we said we did not feel unsafe at any time, because the reality is that there were some moments when we had to hold our breath. It did not help that we arrived at 6 am, and at that hour wandering looking for accommodation is a bit reckless. We passed through streets where clearly felt we were in the wrong place. As well we were quite lost, decided to stop at a bar for those who open early, and stay there until the city began to awaken.
Once in a hostel that was very decent, went for a walk a little. While it is true that at some point we returned to feel that feeling of insecurity, as a rule were quite comfortable wandering the streets. We discovered a very lively city, culturally attractive and growing signs of modernization.
We especially liked the part of the Center where the streets are filled with sculptures by Fernando Botero, natural there. And it was then that we decided that we would make an effort so that every time we heard the name of the city, parting the Medellin cartel and that our minds make a direct association with this particular artist. The town does not deserve to be known forever by the poster, much better to be known for other things.
Medellin impressed modernizing many of its areas, and public transportation. Your new meter is a great bet, but what particularly struck us was the MetroCable, a network of urban blocks, that due to the topography of the city, surrounded by numerous hills, make this an unparalleled transportation.
Indeed, it was with the MetroCable we reached a unique place, the Arvi Ecotourism Park. This is a huge natural ecological park. What really makes this place special is that with the MetroCable you can be in the center of Medellin and in just half an hour you can stand here, that seems to be a lot distance from any urban center. We believe it is essential that the great metropolises and Medellin is, to have a place where people can escape the traffic and pollution and have direct contact with nature.
Medellin is one of those cities where we could not be as long as we wanted, but that let us the absolute certainty that with just a few more days would have been enough for fall rendered to all its charms. We hope that fate will make us go back through Medellin, the city of Botero.